The 25 Top Supermodels That Dominated Fashion in the '90s
From Linda Evangelista and Naomi Campbell to Kate Moss, Alek Wek, and more, these are the names that ushered in the era of elegance.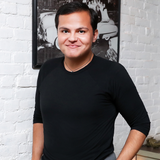 By Barry Samaha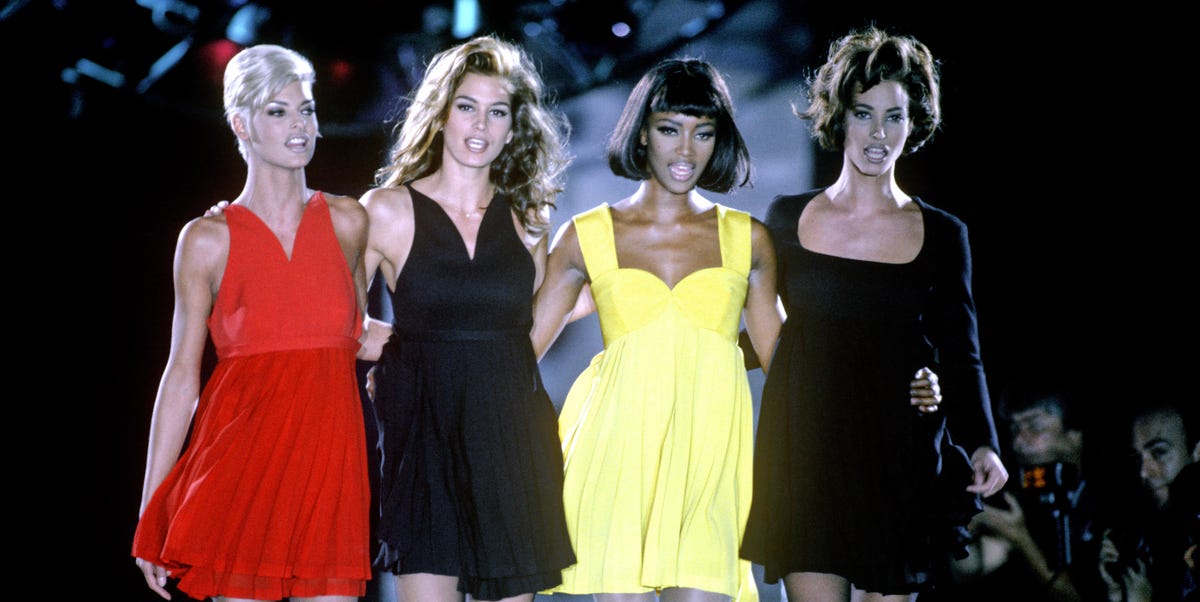 Paul Massey/Shutterstock
"Enter the Era of Elegance," read the cover line of Harper's BAZAAR's September 1992 issue, and it was models who represented this credo. From OG '80s powerhouses like Linda Evangelista, Naomi Campbell, and Cindy Crawford to newcomers like Kate Moss, Alek Wek, and Jenny Shimizu, these diverse beauties superseded the close, esoteric confines, stepping off the runway and onto the global stage.
A quote from Evangelista describes their ascendancy best. "We don't wake up for less than $10,000 a day," she famously quipped in 1990. The decade ushered in an entirely novel approach to modeling—one associated with fame, fortune, and glamour previously only experienced in Hollywood. In fact, the '90s were not an easy time for actresses to find their face on a cover at all. From pure glamazon vibes to darker Heroine Chic, the '90s were not a one-size fits all approach to the craft of modeling, but one thing they all had in common is that their faces—and names—were instantly recognizable. Ahead, we've rounded up the top names that made bank, attracted headlines, and fully exemplified '90s supermodels with a capital S.
1
Linda Evangelista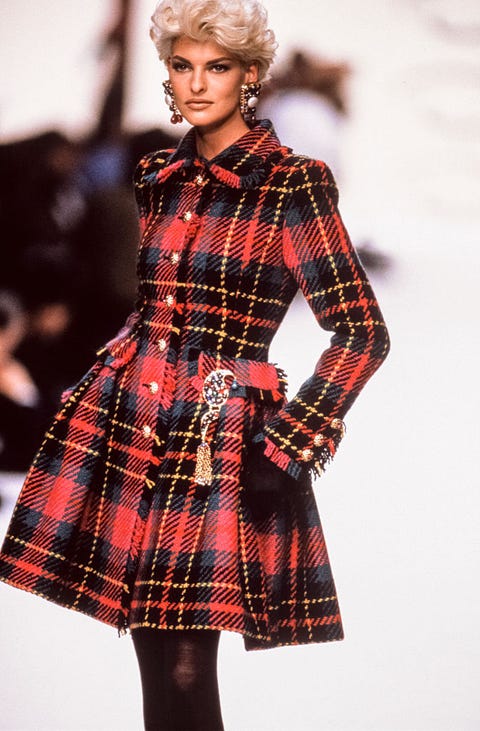 Victor VIRGILE
//
Getty Images
Heralded as the ultimate chameleon, the Canadian supermodel went through the '90s changing her hairstyle and garnering headlines for doing so. From a black pixie cut to bright red bob to a platinum-blonde coif, Evangelista's looks season after season captured the attention of myriad designers, who made her the face of campaigns and the center piece of runway shows.
2
Naomi Campbell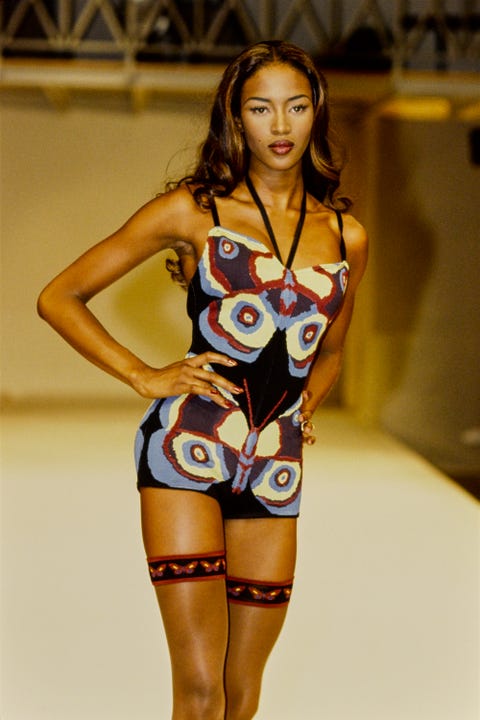 Guy Marineau
Campbell is the queen of the catwalk. So much that Beyoncé immortalized her signature strut in "Get Me Bodied," encouraging listeners to "walk across the room like Naomi Campbell." And though this English beauty received a great amount success, her rise to the top was faced with adversities. She was often the only Black model in runway lineups, campaigns, and editorial shoots—a pervasive mindset that she has fought to overturn throughout her illustrious career.
3
Christy Turlington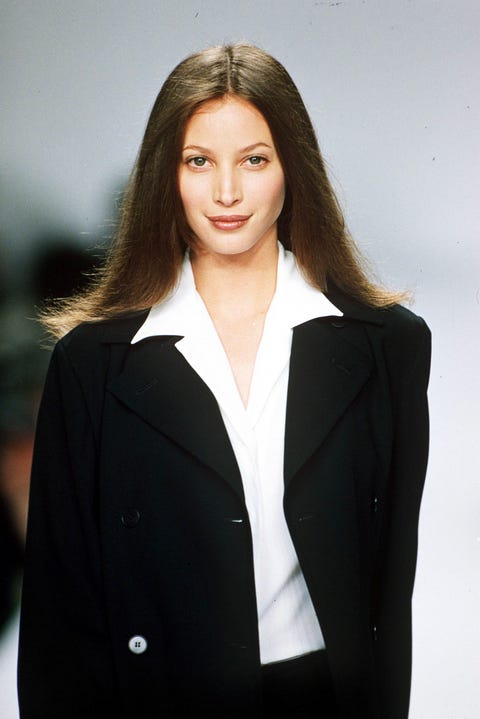 Steve Wood/Shutterstock
Along with Evangelista and Campbell, Turlington rounded out what the fashion industry coined the "Holy Trinity." Born in Oakland, California, she started modeling locally in Florida. But it was not until moving to New York at 18 when her dominance at the top of the modeling world solidified. Over the years, Turlington left to get an education, graduating cum laude from NYU's Gallatin School of Independent Studies. She now focuses her efforts on Every Mother Counts, an organization that, according to its mission statement, works to "make pregnancy and childbirth safe for every mother, everywhere."
Advertisement - Continue Reading Below
4
Cindy Crawford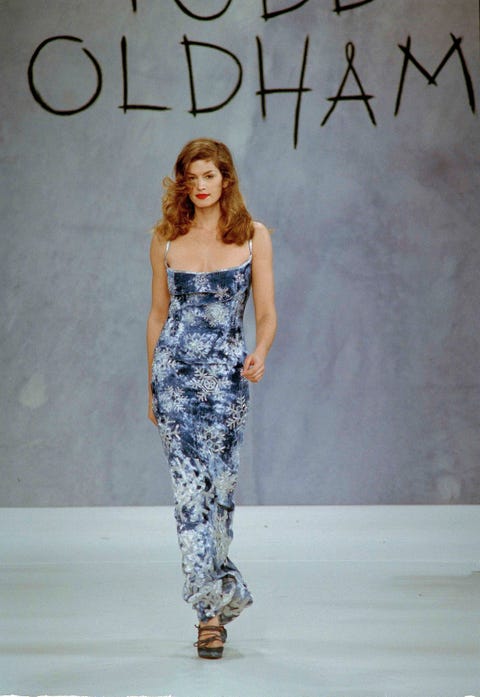 Kathy Willens/AP/Shutterstock
More than most, Crawford's renown in the '90s superseded the industry. She was—and still is—a cultural icon, starring in not just myriad fashion campaigns, but also in Pepsi commercials. Her appearance on the small screen, too, extended to hosting House of Style on MTV. With her distinct beauty mark, her face was plastered on billboards and advertisements. And now, her daughter, Kaia Gerber, is following in her famous footsteps.
5
Claudia Schiffer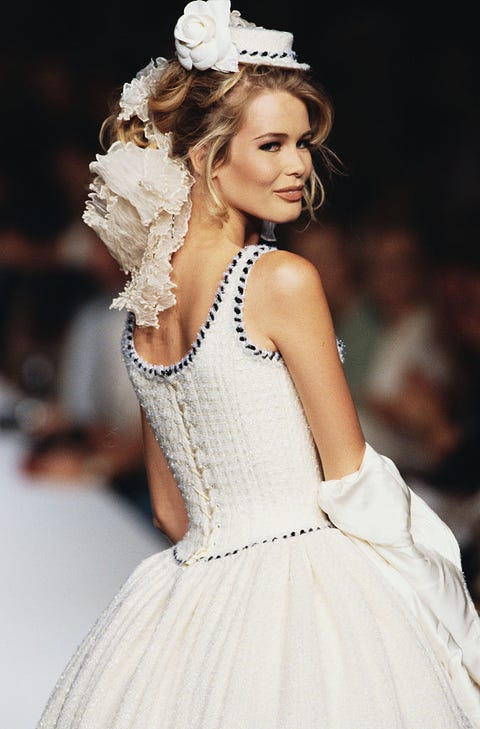 Michel Arnaud
//
Getty Images
Discovered in a nightclub in Düsseldorf, Germany, Schiffer—with her luscious blonde locks, smoky eyes, and plump pout—was touted as the second coming of Brigitte Bardot. Karl Lagerfeld was a fan, taking her under his wing and making her the face of Chanel—a distinction she received with other labels, including Guess. She would garner cover after cover, currently holding the record in the in the Guinness Book of World Records. And along with aforementioned models, Schiffer was a member of the Big Five.
6
Tatjana Patitz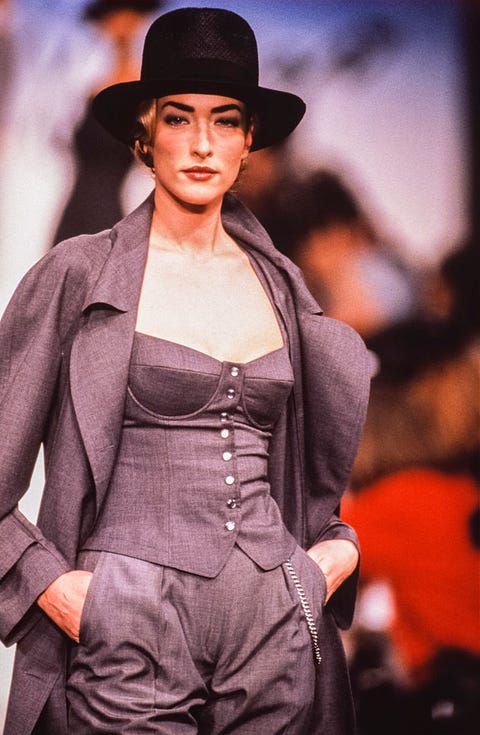 Victor VIRGILE
//
Getty Images
In some cases, Patitz is the one who rounds up the Big Five. Born in Germany and raised in Sweden, the statuesque blonde with killer eyebrows fronted the campaigns of Chanel, Jean-Paul Gaultier, Revlon, Cartier, L'Oréal, and more. But she is perhaps best remembered for starring in the music video for George Michael's "Freedom! '90," along with Naomi Campbell, Christy Turlington, Cindy Crawford, and Linda Evangelista.
Advertisement - Continue Reading Below
7
Kate Moss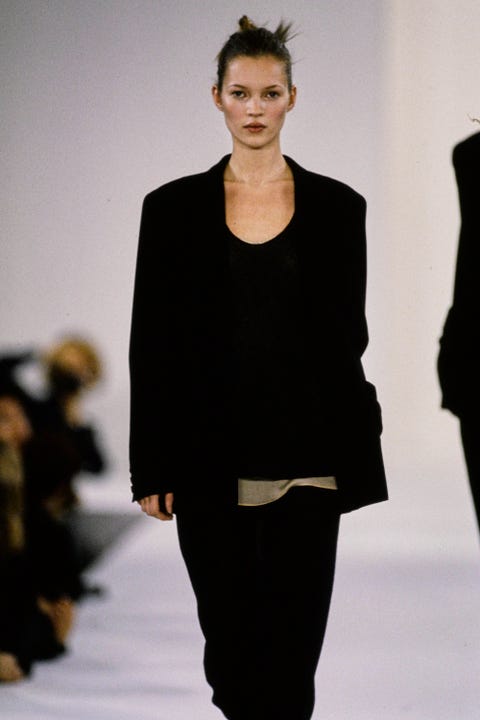 Getty
Kate Moss's entry into the fashion industry was somewhat controversial. Discovered at an airport in London at 14 years old, her waiflike figure was a contrast to the Amazonian bodies that preceded her. She was the poster child for the grunge style that pervaded a good part of the '90s—and her party-going lifestyle and string of famous relationships only heightened this reputation. Indeed, her name crossed industry barriers, becoming part of the pop culture lexicon.
8
Tyra Banks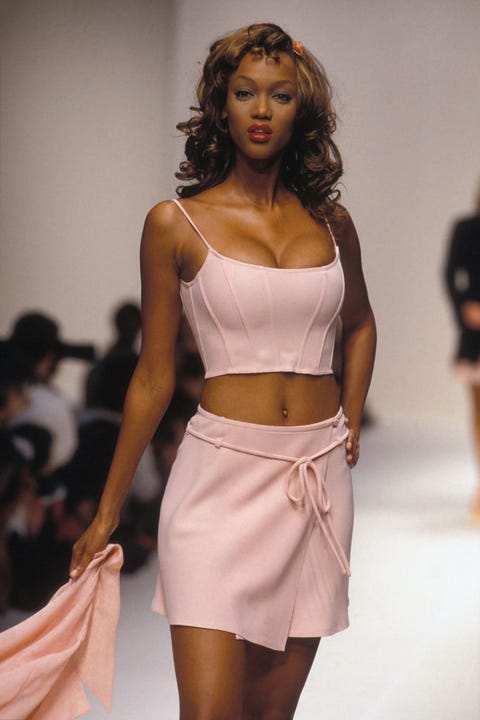 Pool ARNAL/PAT
//
Getty Images
From model to media mogul, Banks's career is a string of epic highs. She conquered her first runway season at Paris Fashion Week, booked editorial shoots in all the top glossies, signed lucrative contracts with CoverGirl and Victoria's Secret, and became the first Black model to front the Sports Illustrated Swimsuit Issue. But it was her moves outside the industry that catapulted Banks to the upper echelons of fame. She starred in a number films and television shows, recorded music albums, founded charities, and created the behemoth America's Next Top Model, which has run for 24 cycles.
9
Heidi Klum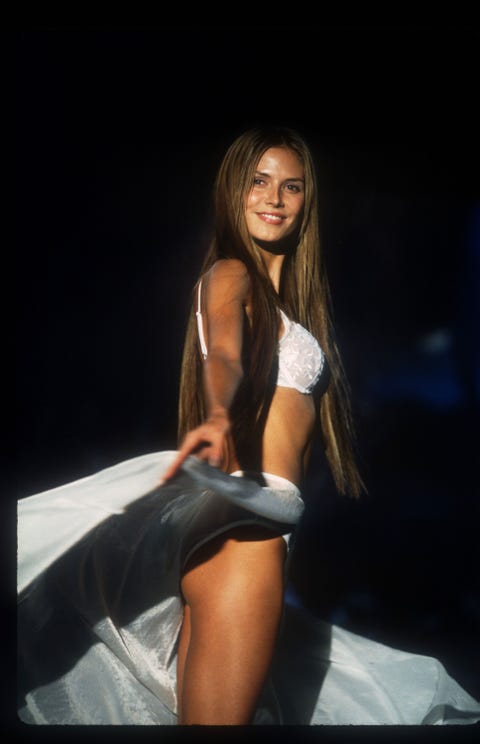 Evan Agostini
//
Getty Images
Like Banks, Klum parlayed her modeling success into other media ventures. The German beauty went from starring in campaigns for Marc Jacobs and spreads for Harper's BAZAAR to becoming the face of Victoria's Secret and appearing in films and television shows. Later on, she joined the judges table for America's Got Talent, Project Runway, and Making the Cut, which she also executive-produces. And if that isn't enough, the serial entrepreneur has an eponymous lingerie collection.
Advertisement - Continue Reading Below
10
Kimora Lee Simmons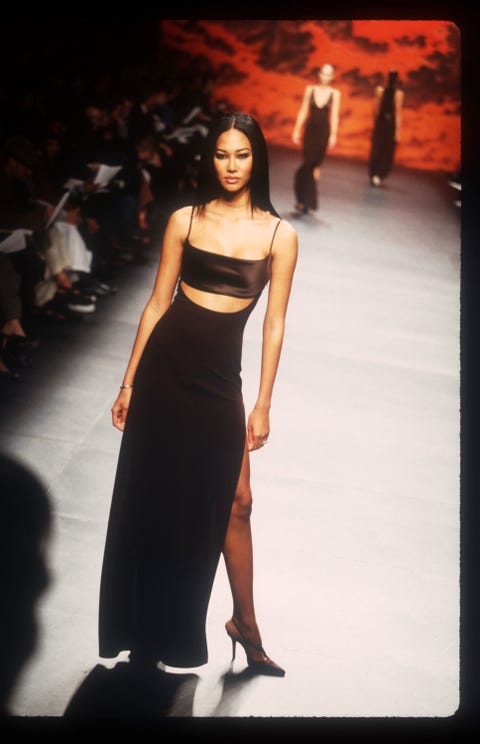 Evan Agostini
//
Getty Images
At the tender age of 13, Simmons was signed by Karl Lagerfeld at Chanel, who regarded her as the "Face of the 21st Century." Brands like Fendi, Valentino, and Yves Saint Laurent also took notice. Then, after marrying entrepreneur Russell Simmons, she founded Baby Phat—eventually becoming the president of its parent company, Phat Farm, which amassed $265 million in profits in 2002. She also created the Kimora Lee Simmons Scholarship Fund and is involved in a number of charities.
11
Carla Bruni Sarkozy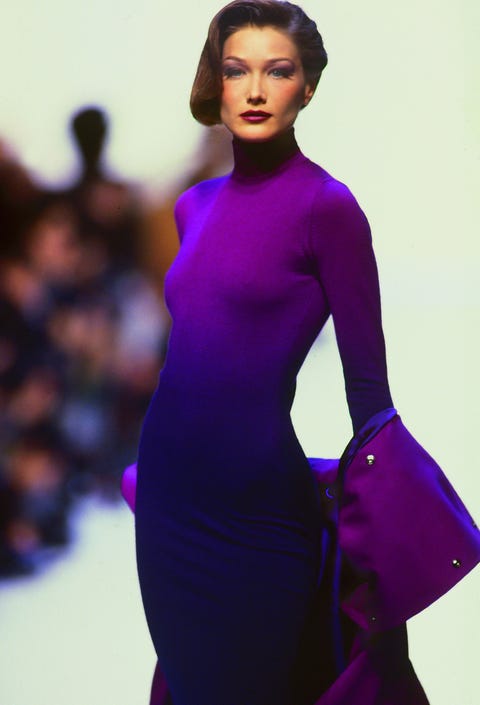 Victor VIRGILE
//
Getty Images
Sarkozy walked down every major designer runway, appeared in endless fashion editorials, and fronted campaign after campaign. And though she wasn't overtly politically active during her heyday as a model, the Italian native was ushered into public affairs when she married President Nicolas Sarkozy and became France's First Lady. Since her husband left office, she has been cultivating her music career, releasing a number of lauded albums.
12
Amber Valletta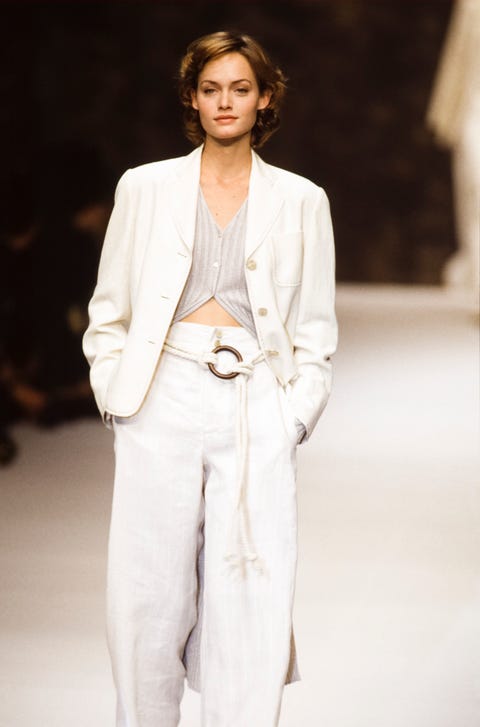 Daniel SIMON
//
Getty Images
Raised in Tulsa, Oklahoma, Valletta swiftly turned from country bumpkin to seductress (her sizzling campaigns for Prada, Giorgio Armani, Calvin Klein, and Elizabeth Arden are proof of that). Still, her girl-next-door demeanor never went away completely, especially when she hosted MTV's House of Style with BFF Shalom Harlow, taking the reins from Cindy Crawford. She then set her sights on Hollywood, garnering a number of film and television credits on IMDb, including Hitch, What Lies Beneath, and Revenge.
Advertisement - Continue Reading Below
13
Shalom Harlow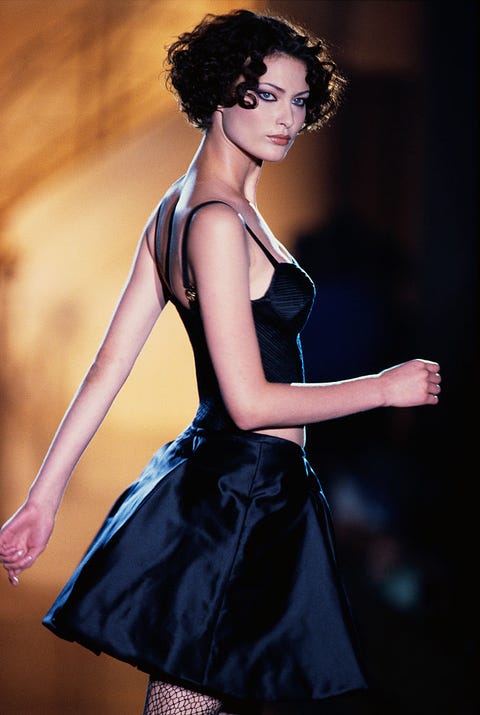 Michel Arnaud
//
Getty Images
Like fellow Canadian Linda Evangelista, Harlow has been distinguished for her catlike appearance—which designers from Isaac Mizrahi to Alexander McQueen to Marc Jacobs have all utilized on their runways and in their campaigns. And along with her frequent collaborator, Amber Valletta, she cohosted House of Style, and segued into the film industry with How to Lose a Guy in 10 Days and Vanilla Sky.
14
Alek Wek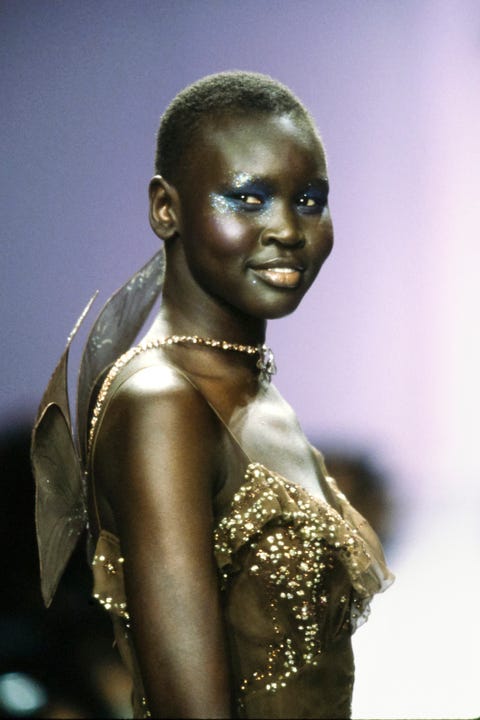 Guy Marineau
When Wek first came on the fashion scene, there were certainly top Black models—but none like her. "When I saw Alek, I inadvertently saw a reflection of myself that I could not deny," said actress Lupita Nyong'o at the Black Women in Hollywood luncheon, per Essence. "Now, I had a spring in my step because I felt more seen, more appreciated by the far away gatekeepers of beauty, but around me the preference for light skin prevailed." Indeed, the South Sudanese Brit changed standards, walking the runways of major brands and gracing ads, breaking down notions that those with fairer complexions are the only ones who appeal to the masses.
15
Jenny Shimizu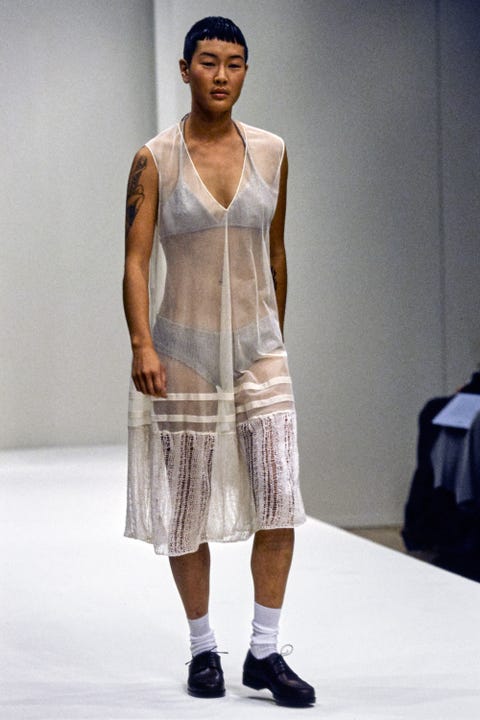 Guy Marineau
Asian, five foot seven, and an out and proud lesbian, Jenny Shimizu didn't fit into any prescribed box. Still, the California native persevered in the fashion industry, becoming one of the few Asian models to walk down a major runway (Prada) and star in campaigns for Calvin Klein, Hourglass Cosmetics, and Banana Republic. She's also appeared in a film alongside Angelina Jolie (whom she reportedly dated) and was a judge on Make Me a Supermodel.
Advertisement - Continue Reading Below
16
Helena Christensen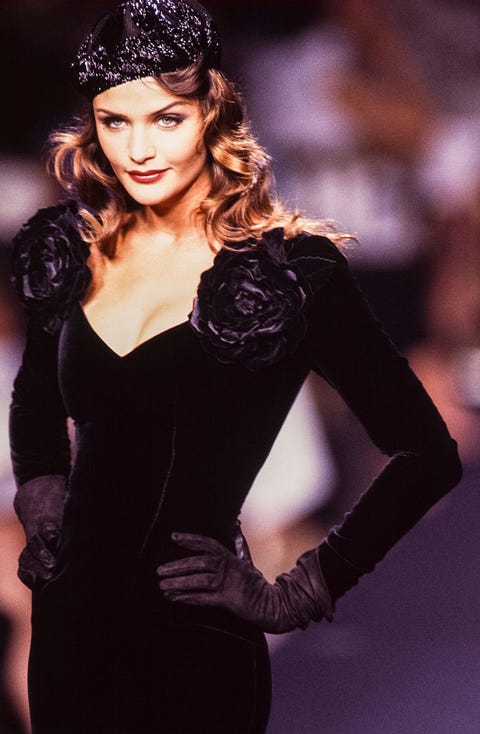 Victor VIRGILE
//
Getty Images
Christensen started her career in pageants, winning the Miss Denmark in 1986 and representing the nation at the Miss Universe event that year. With this notoriety, she entered the fashion fold, appearing in runway shows and campaigns for Valentino, Prada, Chanel, and Revlon, which made her the brand spokesperson in 1992. A few years before, Christensen starred in music video for Chris Isaak's song "Wicked Game," which is deemed one of the sexiest videos of all time. Lately, she has gone behind the camera, becoming an accomplished photographer, along with becoming an advocate for climate change awareness.
17
Yasmeen Ghauri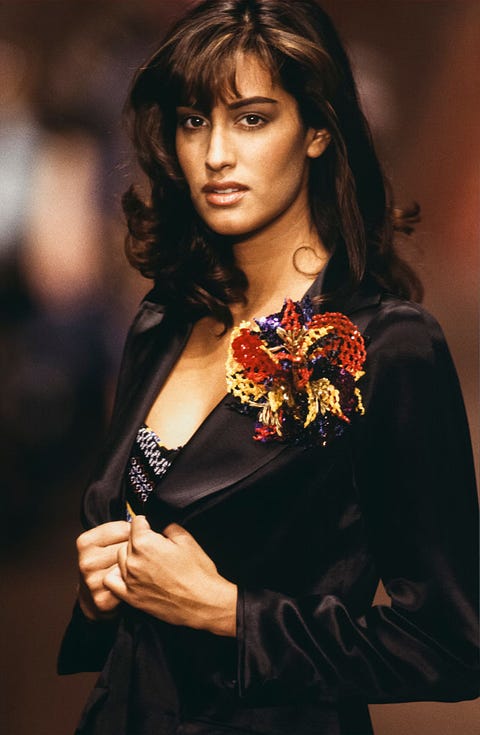 Victor VIRGILE
//
Getty Images
Born in Montreal to a German mother and Indian father in a Muslim household, Ghauri ignored her father's dissuasion to enter a career in fashion. Her defiance proved successful. She landed hefty contracts with Valentino, Victoria's Secret, and Christian Dior, and appeared in fashion spreads of leading glossies.
18
Beverly Peele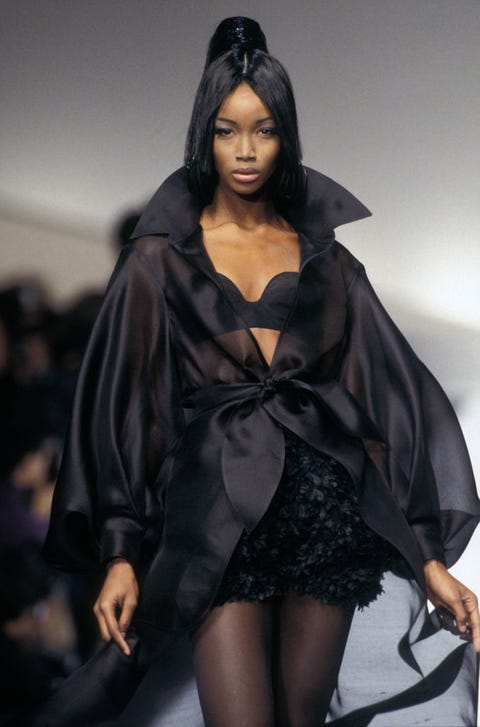 Pool ARNAL/GARCIA
//
Getty Images
Born in Los Angeles, Peele started modeling at 12 years old for small brands, eventually becoming a powerhouse on the runways of Comme des Garçons, Ralph Lauren, Donna Karan, and Versace. Her editorial appearances were equally impressive, gracing more than 250 covers before retiring from the fashion industry in the mid-90s.
Advertisement - Continue Reading Below
19
Nadja Auermann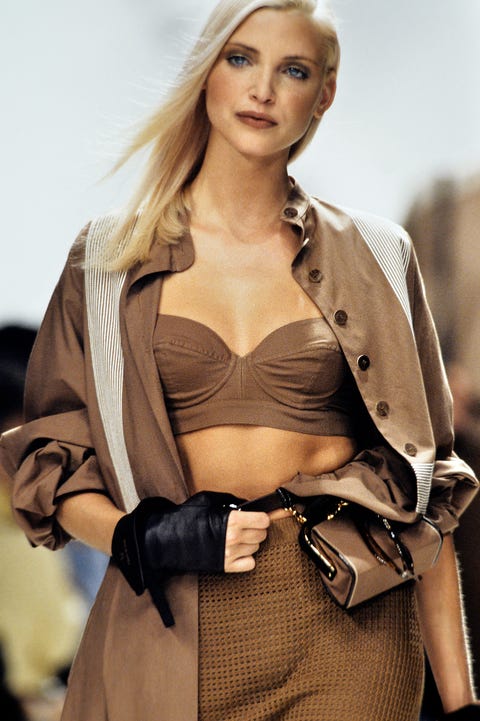 Victor VIRGILE
//
Getty Images
A favorite model of photographers, particularly Helmut Newton, Auermann's blonde locks and piercing blue eyes were far from sweet and innocent. Nay, her look was akin to femme fatales like Marlene Dietrich and Lauren Bacall, women who oozed sex appeal while being in complete control of their personas. And designers—from Jean Paul Gaultier to Christian Dior to Yves Saint Laurent—also took notice of these qualities, placing the German native front and center of their runway shows and ad campaigns.
20
Stephanie Seymour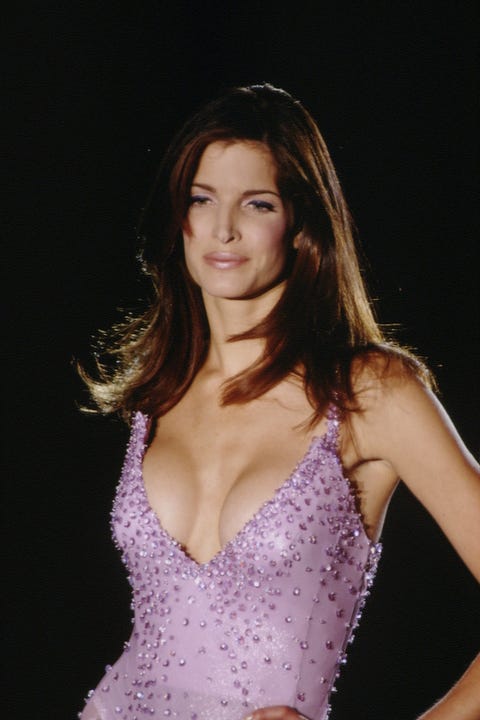 Thierry Orban
//
Getty Images
From covers of Harper's BAZAAR to Playboy to the Sports Illustrated Swimsuit Issue, Seymour (perhaps more than most) was celebrated for her amazing figure. Indeed, photographer Richard Avedon said, per People, that she had the "prefect body"—a distinction that brands like Versace, Alaïa, and Victoria's Secret highlighted on their catwalks and in their campaigns. And for music fans, the California native is best remembered for starring in Guns N' Roses' video for "November Rain."

Barry Samaha is the former style commerce editor at Esquire, where he covered all things fashion and grooming. Previously, he was an editor at Harper's Bazaar, Surface, and WWD, along with overseeing editorial content at Tod's Group. He has also written for The Daily Beast, Coveteur, Departures, Paper, Bustle Group, Forbes, and many more. He is based in New York City and can't seem to find enough closet space for all his shoes.